Jairo- Kreepin @ Nite
In the Armz I Trust
Remix
Freak Around the World



Da Silva
I Won't Say
Land of Nowhere
"Own You"



Bozy1
Been around the WORLD
All night long



Jymini
II ZODIAC FLOWZ
DAMN GOOD


Kay-Slay $7.99
Truly 1 of the Elite NY DJ's and
Radio Hosts. Kay Slay is the Next Best Thing to Funk Master Flex when U talk about a Radio Host wit tru Ties and Respect from the Street, picking up where Flex left off. This Edition of his Street Sweepers 7 Starts wit " Die Another Day" a Benzino Dis track to Eminem and just keeps it coming wit Mobb Deep, Nas, Jay Z and Fat Joe. Streets don't get much better than this.




50 Cent $8.99
27 Slammin Track 50 just
put out straight from the Lab.
From the Stupid radio hit
"Wanksta", to the New
Ghetto Athem "In Da Club",
this is the Latest and Hottest
shit from this years Most
Aticipated Artsit. "This Is A
Gauranteed Classic", Don't
beleive me??? Ask anybody
in NY!!!


Welcome To The #1 Hip Hop Site!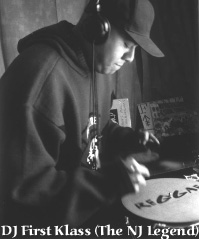 We Want Answers???
DaHeck & 1st Klass kick it for a minute to bring every one up to speed on all of his new projects and albums !!!



Da silva has been around since the fall of 1998. The members previous experience in various hip hop och funk projects have created the basis for a new collaboration in Da silva. With their original songs Da silva's star shines brightly on the Swedish r´n b stage.Valeria Da Silva is the band´s natural focal point. She has danced professionally and sung gospel in One Voice. As a backup vocalist for many performers she has toured extensively, as far away as China... In Sweden, several recording companies and studios have utilized the gifted Brazilian´s charismatic voice.


The four members are: Valeria Da Silva, vocals; Magnus Goethe, keyboards; Per Nordh, bass; Kuzey Gustavsson, guitar.
Jymini
"The Solo Child"
Bozy1
"Putinitdown"

Heavy Rotation
Jairo "Freak Around The World"
DaSilva "I Can't Say"
DaHeck "Kreepin
Interviews!!!
We Want Answers???
DJ First Klass (New Jersey Legend)